The ROI of a CPMAI Certification
When evaluating if Cognilytica's Cognitive Project Management for AI (CPMAI) certification is right for you it's important to ask "What's the return for me on this investment?" Afterall, you're investing your time and money so you want to make sure that the return is worth it.  Fortunately, the ROI of a CPMAI certification is just as clear.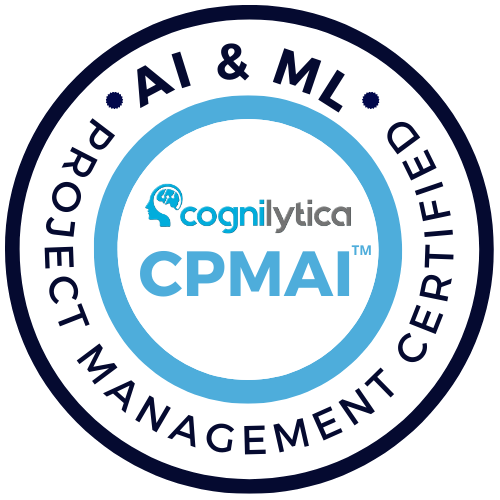 Join Thousands of Others Who are Certified in AI Best-Practices
The best investment you can make is in yourself. When you advance your knowledge and capabilities, you advance your career. The return on investment (ROI) of education is clear: increased salary, increased opportunities, differentiation from others competing for time and talent, and know-how you can apply to immediate and future projects. When evaluating if Cognilytica's Cognitive Project Management for AI (CPMAI) certification is right for you it's important to ask "What's the return for me on this investment?" Afterall, you're investing your time and money so you want to make sure that the return is worth it.  Fortunately, the ROI of a CPMAI certification is just as clear.
When evaluating areas where you can invest in yourself, professional certifications are usually towards the top of this list. This is because certifications offer a way for you to quickly stand out from your peers and show employers you take your career and continuing education seriously. Additionally, certifications provide a credible, third-party assessment of your skill and knowledge for a given subject. They can also provide validation of knowledge in that specific area, increased marketability, increased earning potential, respect from peers and hiring managers, and increased confidence in your skills and knowledge.
AI Project Management Skills are in High Demand
Companies of all sizes are implementing Artificial Intelligence (AI), machine learning (ML), and cognitive technology projects for a wide range of applications across many industries and customer sectors ranging from insurance to finance, IT to construction, retail to automotive and beyond. In fact, according to Cognilytica research, by 2025, over ​90% of organizations surveyed will implement some form of AI or machine learning project. Already, over 40% of the largest global companies surveyed have implemented at least one AI project and plan to continue their investment in AI and ML. 
As such, there is significant and growing demand for skilled project managers and implementers across the whole range of AI capabilities, especially those with certifications such as CPMAI. CPMAI certification is quick and low-cost, combining an  AI project management course  with certification together, costing less than the cost of a high-end laptop and taking under 30 hours to complete. 
The ROI of CPMAI Certification: Best-Practices AI Project Management
The CPMAI Methodology for AI is the fastest growing certification for Artificial Intelligence project management. With thousands certified since 2017, CPMAI is the fastest growing certification for running and managing AI projects, with 220% annual growth rate. AI Project Management Certifications are in high demand, with very few vendor-neutral options on the market.
How does CPMAI enhance my career path?
The CPMAI certification indicates to current and potential employers that you have the right project management skills needed to successfully run and manage AI, ML, and advanced analytics projects. Getting certified augments, enhances, and extends any experience you might have in project management or AI. Or, if you lack that experience, it shows employers that you have gone through best practices methodology that will be instantly applicable to current or future AI projects.
Do Employers care about the CPMAI Certification?
Employers are looking for individuals to run AI projects that have the project management and AI skills necessary to make an impact on day one of their efforts. CPMAI certification has directly helped individuals participate in major AI initiatives and get employed at organizations including Shell, AstraZeneca, Coca-Cola, consulting and contracting firms such as Deloitte, Maximus, and government agencies and organizations across the world.
CPMAI certification opens the door of opportunity for you as a certified project manager for the duration of your certification with additional CPMAI learning opportunities included with your membership, opportunities to interact with the CPMAI community, and job postings from employers looking for CPMAI certified individuals as we announce them.
Can I get the ROI of a CPMAI Certification if I'm not a Data Scientist or IT person?
No prior knowledge or experience in AI or advanced data is needed. Knowledge of project management and IT is helpful, but not a prerequisite. The CPMAI Certification is primarily for those in project or product management, IT, business management, and executive roles that are currently or will be involved in advanced data and AI projects. CPMAI has certified many people in roles such as project management, compliance, legal, risk, procurement, business strategy, analytics, product management, engineering, and many non-IT roles and titles.
How does CPMAI Differ from other Certifications?
The CPMAI Certification is focused on providing project management methodology for running AI, machine learning, and advanced data projects. Other certifications are either focused on vendor- or technology-specific low-level development or data science needs or are more generally focused on project management skills independent of their application. Certainly, there's nothing wrong with having a vendor-specific certification for a cloud platform or development tool, and nothing wrong with having a certification to learn data science skills. As well, there's nothing wrong with having a certification focused on project management skills such as a PMP or Agile certification. In fact, if you have any of these certifications, you'll find even more value in the CPMAI Certification. Many of our CPMAI Certified community have certifications including PMP, LSS, SAFe, ITIL certifications and a wide range of technical and project-specific certifications from vendors such as AWS, Microsoft, IBM, and others
CPMAI Certification fills in the gaps of these technology-specific or project management-general certifications. CPMAI provides the specific best practices methodologies you need to run AI and advanced data projects with confidence in their success, and the certification earned is a signal to employers, recruiters, clients, and colleagues that you have the specific skills needed to run AI and data projects with success. There are no credible alternatives to the vendor-neutral, best practices-based, CRISP-DM and Agile foundation of the CPMAI certification for AI and data project management methodology.
How CPMAI Certification Enhances Your Career
When evaluating the ROI of CPMAI certification, you need to see how others have leveraged CPMAI to their advantage, what they have learned and gained from being certified, how CPMAI builds upon existing certifications to further enhance your skills, and how CPMAI provides the high value and quality you're looking for in third-party vendor neutral certifications. Because, after all, the ROI of CPMAI is also what you make of it. 
CPMAI trainees and those certified will tell you that there is no doubt that CPMAI enhances your AI, data, and project management career. CPMAI provides you with a foundation in AI & Data Understanding as well as helps you leverage & extend your existing certifications and skills. Below is a compilation of testimonials from CPMAI certified individuals on how CPMAI has provided them with the ROI they were looking for.
What People who are CPMAI Certified Say about how CPMAI Enhances their Skills
"If you don't have exposure to data science / AI but have exposure to IT, the CPMAI methodology is very compatible with experiences and approaches to IT project management."
"CPMAI speaks specifically to how a PMP can function within the environment when managing data projects, extending PMP and DataOps concepts."
"The fundamentals of a data project look close to an IT project, but the specifics are different enough that you can't just apply IT methods / methodologies. CPMAI addresses the gaps in other certifications and methodologies."
"AI impacts people, technology and organizations. CPMAI provided a solid foundation in knowledge about the processes that is a key to connecting these areas, extending my existing skills."
"Since my existing certifications are from my past decades of experience, I felt this was important to update my skills."
What Those who are CPMAI Certified say about the ROI of a CPMAI Certification
"The CPMAI was more cost effective than similar certifications. Obtaining the CPMAI online over many weeks made it convenient to integrate into my full-time work schedule. The alternatives were many times more expensive and provided less value to my career. So the CPMAI was good value for the money spent."
"CPMAI training and certification meet instruction hours and other needs to fulfill my ongoing CEU needs, including PMP PDUs and SAFe Certification CEUs."
"The CPMAI community is growing fast. It is enabling deeper conversations which let me dive deeper into AI and data conversations with others as well as providing networking opportunities."
"There are many options today for learning topics, but simply learning something isn't enough to make sure I get long-term value. CPMAI is here to stay as a legitimate provider, not just here for a short-term opportunity. The CPMAI certification helps me not only with understanding concepts, but applying those concepts to my growing career."
What Those Who are CPMAI Certified Say About CPMAI Training's Foundation in AI & Data Concepts
"CPMAI provides a foundational knowledge of AI, ML, analytics, and data science concepts and terminology"
"The CPMAI training and certification level-sets AI and data terminology and understanding with my teammates and peers"
"The CPMAI certification is focused on a project manager and business level understanding of AI and data without diving into needless, complicated details of machine learning, development, or data science"
"CPMAI allowed me to understand the technology at a deeper level while also educating me about managing AI projects."
"I gained a solid understanding of the different types of AI and differentiate AI from automation."
Get the ROI of a CPMAI Certification Today: Get CPMAI Certified and join the fastest growing community of AI and data professionals
CPMAI is more than just a certification. It lets employers know you're serious about learning best practices and lets peers know you have the skill set and knowledge needed to manage AI projects. By getting your CPMAI certification you are joining the fastest growing community and certification for running and managing AI projects, with an annual growth rate of 220%. Join this quickly growing community of AI and data project management professionals to continue to learn, grow, and thrive in your AI project management role and career and get the Cognilytica Certification that is in high demand. Learn from others how a CPMAI certification will enhance your career.
Interested in learning more about CPMAI and how it can enhance your career? Sign up for CPMAI certification here.
Join Thousands of Others Who are Certified in AI Best-Practices