Is the CPMAI Certification worth it?
Organizations are looking for people with the right skills and knowledge to manage these projects. So, is the CPMAI Certification worth it? Absolutely!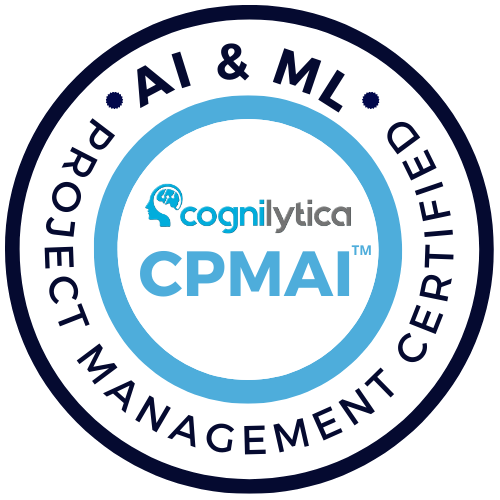 Join Thousands of Others Who are Certified in AI Best-Practices
Organizations across the world are looking to Artificial Intelligence (AI), Machine Learning (ML) and cognitive technologies for a competitive edge. However, many sources claim up to 80% of AI projects fail. Because of this high failure rate, organizations are looking for people with the right skills and knowledge to manage these projects. So, is the CPMAI Certification worth it? Absolutely!
The Cognitive Project Management for AI (CPMAI) methodology and certification not only gives the latest best-practices you need to ensure project success, but also enhances the careers and salaries of those who are pursuing AI, machine learning, and advanced data projects. In addition to the most in-demand certification for AI project management, CPMAI  provides foundational knowledge of AI and advanced data, making you more competitive in a high-demand landscape.
What is the CPMAI Certification?
The Cognitive Project Management for AI (CPMAI) methodology certification is a vendor-neutral, data-centric, AI-specific, iterative methodology for running and managing AI, ML, and cognitive technology projects. The CPMAI methodology for AI project management extends upon previous project management courses and methodologies, such as Agile Methodology and CRISP-DM to meet AI-specific requirements. CPMAI certification includes 27 hours of self paced training, a template and workbook that can be applied for every ML and AI project you plan to run and does not require any prerequisites. CPMAI is the fastest growing AI project management course and certification for running and managing AI projects, with 220% annual growth rate.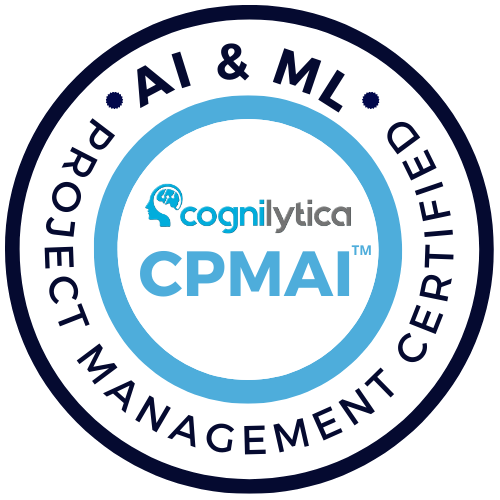 How will the CPMAI Certification benefit me?
The CPMAI training and certification comes with many benefits of which just a few are discussed below including learning AI, ML, and cognitive technology fundamentals and best practices, a bump in salary, making you more competitive, and enhancing your career. 
Learn Fundamentals and Best Practices for AI and Data Projects 
AI project management requires you to interact with different groups in the organization including technical teams, C-levels and AI practitioners. As such, having the right vocabulary and understanding needed to communicate with these groups and have everyone operate on the same page is key to AI project success. 
CPMAI training and certification provides the foundation in AI, ML, and cognitive technology terminology and concepts you'll need to ensure you're able to speak the same language. Getting certified in artificial intelligence project management augments, enhances, and extends any experience you might have in project management or AI as well as any existing certifications. It also provides you with the best practices, techniques, skills and a data centric, step by step AI development process that will ensure project success. Once trained as a CPMAI certified project manager in AI, you'll be able to deliver real project cost savings and improve average iteration time by up to 300%.
Enhance Your Career
As  organizations look to hire skilled AI Project managers, the CPMAI certification is a signal to would-be employers or internal teams that you have the tangible capabilities needed to show your increase in skills, pay, and contract value. Others that aren't CPMAI certified operate at a distinct disadvantage to those who have the latest CPMAI certification. CPMAI certified individuals can expect to see higher salaries and more lucrative projects compared to those who are not certified. The average salary/contract increase with CPMAI is $16k+ making the certification fee well worth the investment. 
Make Yourself More Competitive
Organizations prefer to hire a known quantity who knows how to implement AI projects with best practices right out of the gate. CPMAI certification makes you more valuable and differentiates you from other applicants by showing employers and managers that  you have the ability to run AI and data-centric projects. As with other project management certifications, an AI project management certification helps you to advance your career by showing recruiters, hiring managers, and current employers your professional knowledge, skills, and credentials. Earning a certification and training from Cognilytica's artificial intelligence project management course shows your ability to run AI projects with continuous improvement and that you have gone through best practices methodology that is applicable to current or future AI projects.
More Answers to Is The CPMAI Certification Worth It
How long does certification take?

The CPMAI Training and Certification contains around 27 hours of self-paced online instruction plus an additional 16 sets of exercises with at least 20 questions each that are automatically scored. You have up to six months to complete the certification, but many complete the training and certification process in just a few weeks.

How Much Does CPMAI Training & Certification Cost?

The CPMAI Certification is bundled with the Self-Paced, Online Training, which is just $2495 per person. Additional discounts are available for group registrations of five (5) or more individuals who all register and pay at the same time.

Do I need to know anything about or have prior knowledge in AI or data for the CPMAI Training and Certification?

The CPMAI Training and Certification doesn't require any prior knowledge or experience on AI or advanced data. The CPMAI training and certification course starts with a foundation of AI, foundation of data science.

How long is the CPMAI certification valid?

Once you are CPMAI certified, your certification is valid for three years during and after which it may be maintained by keeping active your CPMAI Community membership and by upgrading to the latest version of CPMAI Certification and/or completing at least forty (40) Continuing Education Units (CEUs).

How is CPMAI delivered?

Cognilytica training is offered primarily as a virtual, self-paced solution that is constantly updated to meet growing and dynamic needs of the market. Cognilytica also offers live instructor models in both virtual and in-person modes depending on needs, schedule, budget, and availability. Inquire for details and required minimum enrollment for live instructor options.
Get CPMAI Certified! The CPMAI Certification is Worth It!
CPMAI certification provides significant  benefits, including education and training in AI and advanced data fundamentals, best-practices techniques necessary for successful projects, giving you a real step up in your career and earning potential. Join the fastest growing community of AI and data project management professionals. It lets employers know you're serious about learning best practices and lets peers know you have the skill set and knowledge needed to manage AI projects. Learn more about CPMAI and join the thousands of certified data and AI project management professionals who are continuing to learn, grow, and thrive in their AI and data project management role and career and join the Cognilytica Certification community! You can sign up for CPMAI certification on our site and get started today!
Join Thousands of Others Who are Certified in AI Best-Practices