How does a CPMAI certification enhance my career?
There is tremendous opportunity for people looking to manage AI & ML projects and there is a significant and growing demand for skilled AI project managers and implementers across the whole range of AI capabilities. So, you might be asking "how does a CPMAI certification enhance my career?" Read more to find out!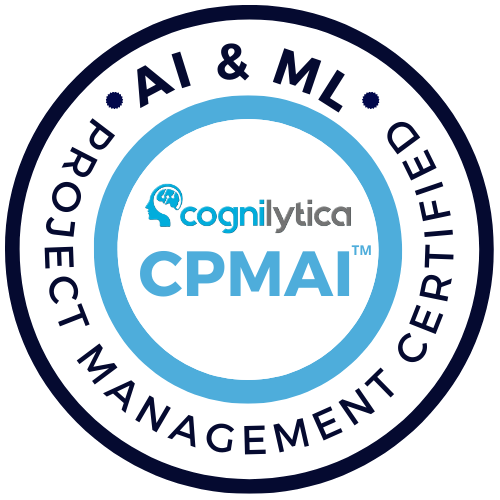 Join Thousands of Others Who are Certified in AI Best-Practices
Companies of all sizes in every industry are looking to Artificial Intelligence (AI), machine learning (ML), and cognitive technology projects that can provide a competitive edge, provide efficiencies, and improve ROI in today's competitive landscape. As a result, this creates tremendous opportunity for people looking to manage these types of projects and there is a significant and growing demand for skilled AI project managers and implementers across the whole range of AI capabilities.  So, you might be asking "how does a CPMAI certification enhance my career?" Read more to find out!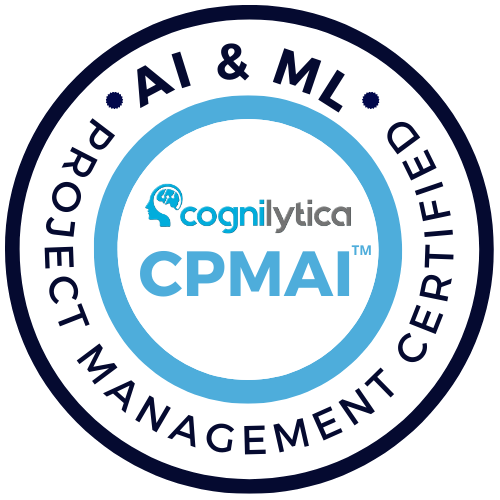 However, if you have ever tried to manage an AI, ML, or cognitive technology project you know that traditional project management approaches such as waterfall, predictive, Agile, and adaptive approaches that require generic project management training have significant knowledge gaps for running  AI and advanced data projects. In order to be successful, you need to apply a proven, best practices AI project methodology that is data-centric, modern, and real-world tested for success. Getting certified the Cognitive Project Management for AI (CPMAI) Methodology provides you with the tool set and skills you need to stand out from your peers in this space. As AI and advanced data projects continue to evolve, being a certified project manager in AI has become a highly desired skill. But what exactly does that entail and how can CPMAI certification enhance your career no matter where you are professionally?
AI project management certification
If you are looking to run and manage AI projects, or currently running AI projects, or you're looking to get hired into a project or program management role related to AI, getting certification on the best practice methodology for AI projects will add significant value to you and your work. Increasingly, AI project owners, managers, and employers are looking for skill sets related to AI project management that will help ensure AI project success.
Based on hundreds of real-world implementations to develop a methodology optimized for the delivery of in-production, high value, successful AI projects, the Cognitive Project Management for AI Methodology, CPMAI, leverages decades of real-world methodology experience for running big data projects combined with the latest best practices expertise learned from running real-world AI projects. AI & big data project success is rooted in successful planning, expectation setting, and establishment of best practices based on Agile, CRISP-DM, and other proven approaches to managing big data & AI projects.
What is AI project management?  
While general project management courses are geared towards people who are looking to get general knowledge on how to manage projects, these courses and certifications don't provide any specific insight or approaches to running and managing AI projects. It's one thing to learn how to manage a complex construction project that will take many months to years to complete, but these general ideas around budgeting, managing timelines, contractors, and deliverables don't usually translate well for AI projects.
 For AI, you need more focused AI project management courses and certification geared towards an iterative approach for data-centric projects. AI project management is focused on the data, including steps that are iterative and agile, and allowing teams to be flexible in their approach to the project. AI Project Managers need to know how to communicate with  both the technical as well as business teams, understand core concepts related to data, AI and ML, as well as understand that AI projects are not like application development projects. A good AI project manager knows that projects are never a "set it and forget it" type approach so adopting an iterative methodology is key to their long term career success.
How Does a CPMAI Certification Enhance My Career?
CPMAI phases are iterative with each other and allows for progression backwards or forwards during AI project development depending on the need and challenges met in the real world. Once trained and certified on this methodology you'll be able to communicate effectively across teams, devlier real project cost savings and ROI, and improve average iteration time by up to 300%.
CPMAI trainees and those certified will tell you that there is no doubt that CPMAI enhances your AI, data, and project management career. CPMAI provides you with a foundation in AI & Data Understanding as well as helps you leverage & extend your existing certifications and skills. 
An AI project management certification helps you Stay Marketable and Relevant.
 Certifications can be measured as the best way to influence employers and assure them that the job to be executed will be done by knowledgeable managers. Whenever there is an AI or advanced data project at an organization, employers usually give preference to certified professionals rather than those without certifications. CPMAI certification is given to the individual (not the organization) so it stays with you even if you switch departments or companies. Your CPMAI certification will help you stand out and make knowledgeable decisions and lead your team and project towards success. 
You don't need to currently be in a project management role to take CPMAI
While it's helpful to have some experience in a project or program management role, CPMAI certification does not require any prerequisites. This training and certification is designed for anyone looking to enhance their skill set and learn how to manage AI and advanced data projects with a proven, best practices methodology. Whether you are a student, currently in between jobs, looking to move to a project management role, or are an established project manager CPMAI certification is for you, and this is how a CPMAI certification will enhance your career.
CPMAI Training and Certification is offered in a variety of different ways  to provide you the flexibility to learn the material around your busy schedule
It can be difficult to find the time to take training and certification to enhance your career. And we know that not all artificial intelligence management courses provide the tangible benefits that you can immediately apply to your job, therefore we've made sure that the CPMAI training and certification is offered a variety of different ways to meet the many needs of our community. When taking the virtual self paced option, the CPMAI Training and Certification contains around 27 hours of self-paced online instruction plus an additional 16 sets of exercises with at least 20 questions each that are automatically scored to make sure you absorb and understand key concepts in each set. You have up to six months to complete the certification, but many complete the training and certification process in just a few weeks. You may retain the downloadable training materials and workbook for your current and future projects as long as they are not publicly shared or posted online. For those looking for virtual options with a live instructor or people who seek to have an in person crash course in just a few days, we offer those options as well. 
Invest in yourself for increased opportunities and earnings: How CPMAI Certification Enhances Your Career
To ensure that artificial intelligence management courses deliver the return on investment, seek opportunities to advance your career, increase your salary, and participate in new, fast past AI projects. On average, people who are CPMAI certified can expect to see higher salaries or contracts once certified. In fact, the average salary/contract increase with CPMAI is $16k+ which makes the ROI of certification well worth the cost and time commitment.
The CPMAI Training and Certification fee is all-inclusive, providing all necessary online, self-paced learning, supporting materials including workbook and downloadable training materials, self-graded exercises to make sure you're understanding the material presented as well as the end of course certification exam, and one year membership to the CPMAI professionals community starting at time of training enrollment. 
Join the fastest growing community of AI and data project management professionals
CPMAI is more than just a certification. It lets employers know you're serious about learning best practices and lets peers know you have the skill set and knowledge needed to manage AI projects. By getting your CPMAI certification you are joining the fastest growing certification for running and managing AI projects, with an annual growth rate of 220%. Join this quickly growing community of AI and data project management professionals to continue to learn, grow, and thrive in your AI project management role and career and join the Cognilytica Certification community. Learn from others how a CPMAI certification will enhance your career.
Interested in learning more about CPMAI and how it can enhance your career? Learn more about CPMAI and the certification here.
Download the CPMAI AI Project Checklist to see how to apply CPMAI to your AI Projects today!
Join Thousands of Others Who are Certified in AI Best-Practices