Cognitive Project Management for AI – CPMAI At a Glance [Infographic]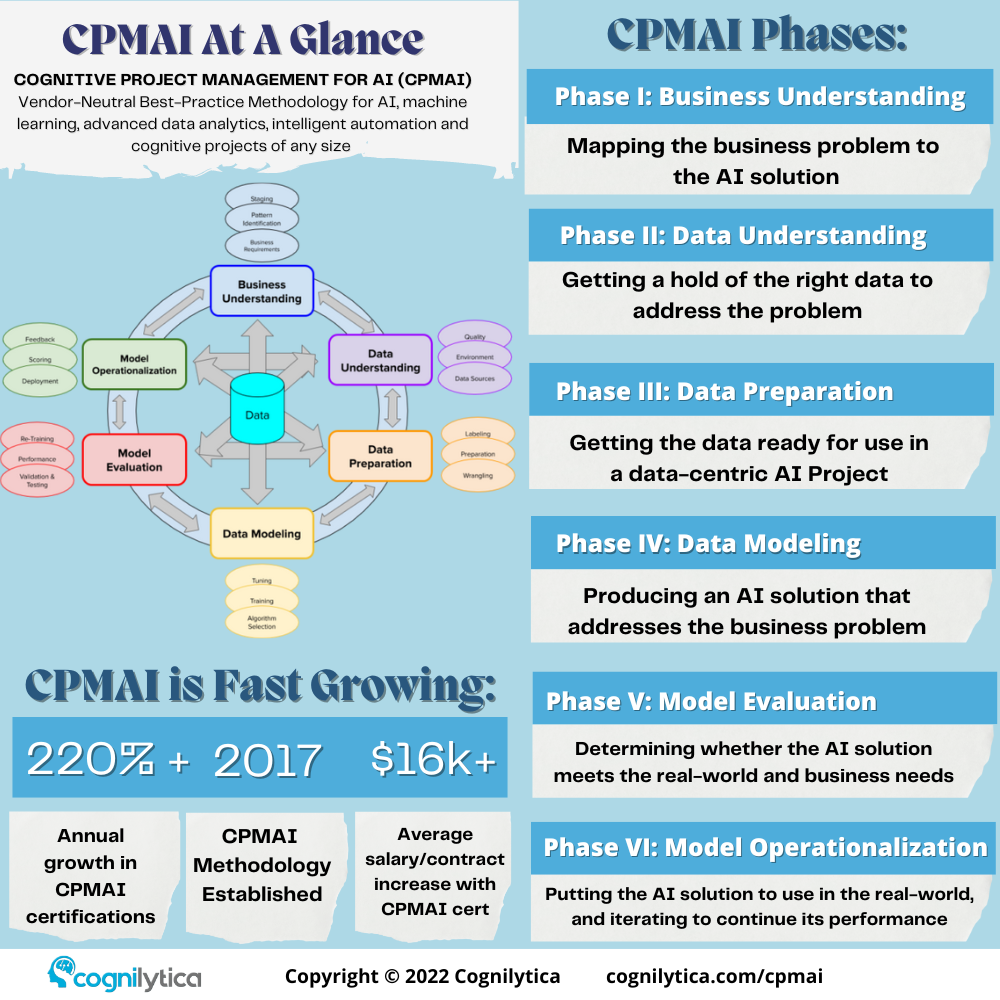 What is the Cognitive Project Management for AI (CPMAI) Methodology?
The Cognitive Project Management for AI (CPMAI) methodology provides a step by step approach to AI project management that has seen significant success in enterprise, government, academic, consulting, and technology vendor implementations. This vendor neutral methodology for AI projects is based on CRISP-DM and Agile provides you with established best practices for running your AI and advanced data analytics projects. The above infographic provides an overview of CPMAI at a glance, but read below for more details.
How do you manage AI projects?
The CPMAI Methodology for AI consists of six phases that are followed on each project iteration. You can use this as an AI Project guideline to ensure you're not missing or skipping any critical steps in your project, and use the above overview of CPMAI at a glance to understand how these phases fit together.
CPMAI Phase I: Business Understanding – "Mapping the business problem to the AI solution." In this phase you'll be gathering an understanding of the business requirements and understanding the business needs. 
CPMAI Phase II: Data Understanding – "Getting a hold of the right data to address the problem." In this phase you'll be understanding what data is required to address the business problem, whether or not that data is available, and what format(s) your data is in.
CPMAI Phase III: Data Preparation – "Getting the data ready for use in a data-centric AI Project." In this phase you'll be making sure the data you have is usable for your project by doing things such as data cleansing, data aggregation, data augmentation, data labeling, data normalization, data transformation and any other activities for data of structured, unstructured, and semi-structured nature. 
CPMAI Phase IV: Model Development – "Producing an AI solution that addresses the business problem." In this phase  should be the creation and development of machine learning models.
CPMAI Phase V: Model Evaluation – "Determining whether the AI solution meets the real-world and business needs." In this phase should evaluating your model including model metric evaluation, model precision and accuracy, determination of false positive and negative rates, key performance indicator  (KPI) metrics, model performance metrics, model quality measurements, and a determination as to whether or not the model is suitable for meeting the goals or whether earlier phases should be iterated upon to reach those goals.
CPMAI Phase VI: Model Operationalization – "Putting the AI solution to use in the real-world, and iterating to continue its delivery of value:" In this phase  you're putting the model you just created into operation. 
Get More than CPMAI at a Glance – Dive Deeper with More Understanding of CPMAI
For a more in depth overview of CPMAI we recommend you read What is the Cognitive Project Management for AI (CPMAI) Methodology? Take it one step further to enhance your skills professionally and get the CPMAI certification to join the thousands of certified data project management in AI professionals who are continuing to learn, grow, and thrive in their AI and data project management role and career.
Join Thousands of Others Who are Certified in AI Best-Practices